Thus, by the late 1940s there was a new Carl Zeiss company (with many of the original top staff) in Oberkochen, West Germany, and the original Carl Zeiss company in Jena, which was in the Soviet occupation sector of eastern Germany that subsequently became known as "East Germany" or the "GDR". Similarly, many Zeiss Ikon staff had moved from Dresden to the company's plant in Stuttgart, West Germany, leaving other staff at the company headquarters in Dresden, East Germany. Similar situations applied with Schott glass and many other companies.

The original intention was that the west and east companies should co-operate (at least in the case of Carl Zeiss), but political changes in the eastern, Soviet-controlled, zone of Germany, made this initially difficult, and eventually impossible.

The consequence was that entitlements to use the great company and brand names of Carl Zeiss, Zeiss Ikon, Contax, Sonnar, etc. were challenged in courts in various countries of the world, with varying results. From March 1951 the original Dresden Zeiss Ikon factory lost the right to use the name "Contax" in West Germany, and Zeiss Ikon AG Stuttgart (West Germany) obtained the international registration of their company name in Berne, Switzerland as early as May 1951 (Schulz, p 63).

For Carl Zeiss, legal challenges over the use of the name of the company and its products dragged on for approximately two decades. See details of the outcome for them here.

For information on how the country of origin was specified on photographic equipment and literature produced in East Germany, see here.


To go to the Bibliography, click here.

To go on to the next section, click below.
02 The Contax I, II and III

To go to the beginning of the history section, click here.

For some information on the background of some other manufacturers, click here.


To go to introduction to the cameras, click here.

To choose other options, click below.
Home

© TRA August 2010 Latest revision: January 2020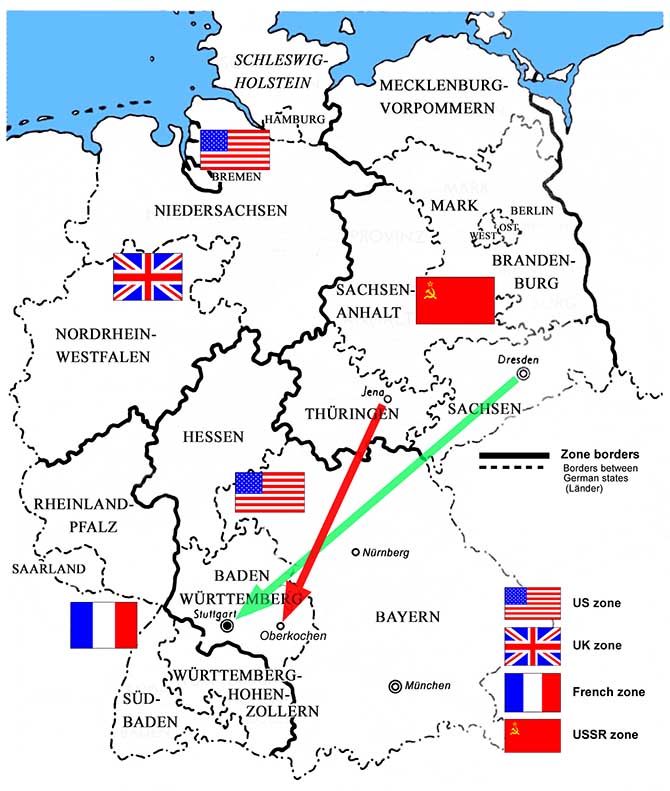 [map.jpg]
Divided Germany in 1945, with the regional names in use at that time.
The red arrow shows the move of Carl Zeiss staff from Jena to Oberkochen, and the green arrow shows the move of some Zeiss Ikon (Contax) staff from Dresden to their regional factory in Stuttgart.