The Pentacon Six System
by TRA
The History of the Pentacon Six
The new KW Medium Format SLR camera: choosing a name
What would be a good name for the new camera? KW produced the Praktica and the Praktina and wished to incorporate the Prakti- prefix in the new name, so a logical name for a 6×6 KW camera would be Praktisix (deliberately appealing to the English-speaking world with the final element of the name).
When KW decided to design its own Medium Format SLR, it benefitted from its experience assembling the Meister Korelle, but above all it used the technical solutions developed for its flagship 35mm SLR camera, the Praktina. "Photography: 150 Years" states (p. 27) that it was KW's chief engineer and designer Siegfried Böhm whose "creativity is ... embodied in system cameras like the PRAKTINA and PRAKTISIX/PENTACON six".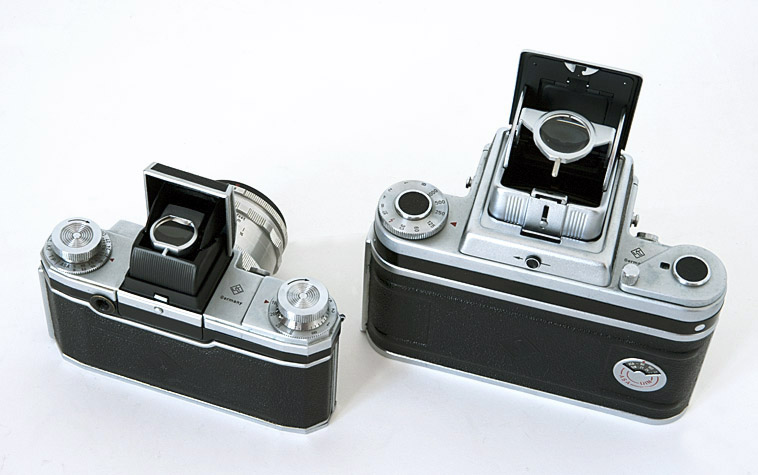 The Praktina and the Praktisix.
Note the similarities in the design of the magnifier for the "waist-level" finder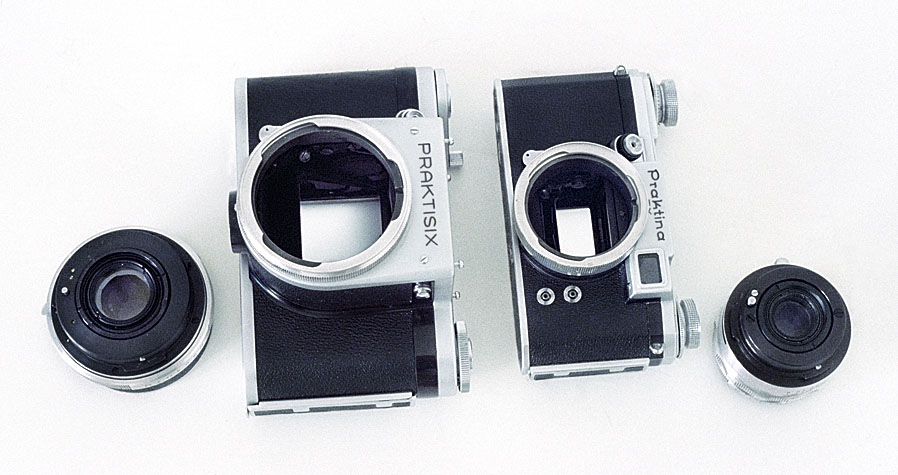 In this image one can see clearly that the Praktina breech-lock bayonet mount was merely up-scaled for use on the Praktisix.
Even the automatic aperture stop-down lever is in the same place (and the mechanism is virtually identical).
Other similarities of design will also be observed.
[C404_35]
Many of the accessories designed for the Praktina were subsequently offered for the Praktisix and the Pentacon Six, including accessories for the prism such as the accessory shoe, the angle finder and the focussing telescope (scroll down).
To go to the Bibliography, click here.
To go on to the next section, click below.
16 The Praktisix
To go to the beginning of the history section, click here.
To go to introduction to the cameras, click here.
To choose other options, click below.
Home
© TRA August 2010, revised September 2011