The Pentacon Six System
by TRA
The History of the Pentacon Six
The Pentacon Six
Dates: 1966 or 1967-1969 – CB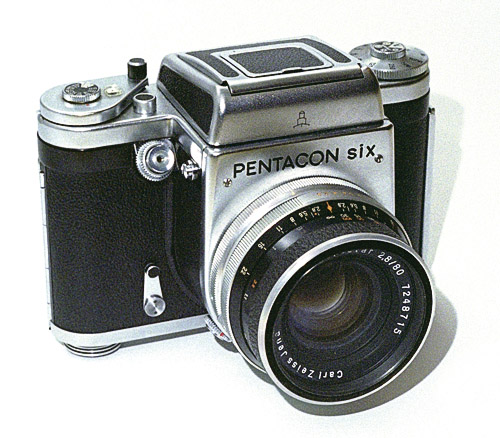 A Pentacon Six with a Biometar lens from November 1965 that was probably made before the camera, but may have been sold with it.
In this picture one can see the film type and speed reminder dials on the shutter speed dial and the frame advance lever, respectively.
It is also possible to see the perspex cover on the frame counter, and the flash synch cable locking nut (just under the lens, at "7.00 o'clock").
[C396_12.jpg]
Features
This camera incorporated a number of significant changes:

With this model there was a major improvement in film transport (spacing), with the incorporation of a spindle with serrated teeth inspired by the sprocket wheels or spindle of 35mm cameras. This measured the amount of film being advanced and works well if the film is loaded tightly.
It was now possible to use 220 film (24-exposures) as well as 120 (12-exposure) film. An automatic advance lock after the 12th and 24th frame made the user aware of the end of the film.
The frame counter automatically reset on opening the camera back, so the counter re-set button was no longer needed.
The frame counter was covered by a larger but flatter Perspex window.
Film type and speed reminder dials disappeared from the camera back and were placed on the shutter speed knob and the advance lever respectively.
The two screws that hold the "removable" back in place were now anodised black instead of the chrome of all the preceding models: the idea of supplying different backs seems to have been abandoned.
There was no longer an "X" by the flash socket, it presumably having been decided that this would be the only type of flash synchronisation that was required (at least within Europe).
There was a locking nut for the flash synch cable.


Inside the Pentacon Six
The spindle that controls film spacing is arrowed.
Two non-blackened springs on the door help to press the film against the spindle.
Another spring in the film feed chamber on the left also helps to hold the film tight,
to ensure both accurate spacing and good film flatness.
[C447_34AP6.jpg]
Accessories and lenses


This Pentacon Six is fitted with the standard 80mm Biometar lens in the so-called "zebra" style. The lens in this picture was completed on 29th March 1968 and was probably sold with this camera.
[C151_4.jpg]

A fresnel viewfinder lens became available as an option. This increased viewfinder brightness fourfold (equivalent to two extra stops on the objective lens).

There were now automatic aperture lenses up to 300mm (with the introduction of the 300mm Zeiss Sonnar in 1966).

To go to the Bibliography, click here.
To go on to the next section, click below.
20 The Pentacon Six TL
To go to the beginning of the history section, click here.
To go to introduction to the cameras, click here.
To choose other options, click below.
Home
© TRA August 2010