The Pentacon Six System
by TRA
The History of the Pentacon Six
The Kiev 90

Dates: c. 1983-1985 and c. 1987-1990
(information from Princelle, p.224)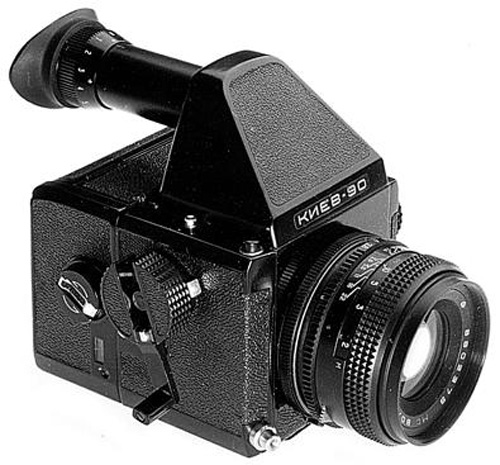 The Kiev 90
Image kindly supplied by Jean-Loup Princelle
[jlp2.jpg]
The Kiev 90 was a 4.5×6 cm camera from the Arsenal factory in Kiev, with an electronic shutter and a Pentacon Six lens mount.

Features

Princelle gives the following information:

"4.5×6cm SLR with aperture-priority automatic, semi-auto and manual modes. Interchangeable lenses, focussing screens, viewfinders and magazine backs. Metering by LEDs visible in the finder.
Vertical running focal plane shutter with electronically controlled timing. Speeds: B, 4 – 1/1000s; X-sync at 1/60s; double shutter release buttons.
Green-tinted mirror; pink-tinted metering area.
Bayonet breech-lock lens mount of the PENTACON-6/KIEV 60 type.
Delivered with MC VOLNA-3 2.8/80mm lens.
Range of lenses identical to those for KIEV-60.
Delivered with two magazine backs which can be exchanged in mid roll. Backs each have built-in film speed indicators with electrical connectors to meter circuitry on camera body." (p. 224)

A 35mm panoramic back was planned (Braas, p 129)

Note that the metering was within the camera body, not in the prism. Thus metering was retained, regardless which viewfinder was used.

Although the lenses had the Pentacon Six mount, a prong connected to the aperture ring on the lens projected back from the lens to engage with the body and thus transmit the selected aperture value to the metering system. This must have required the re-design of some lenses, as there was not a standard direction of rotation of the aperture ring for Soviet lenses with the Kiev 60 mount.

Thus, lenses for the Pentacon Six, Kiev 6C/60 and Exakta 66 that did not have this additional prong would only be usable with stop-down metering.

Most of the Arsenal medium format lenses appear to have been made available with this prong in 1988, according to Princelle (p. 223).

According to Princelle, about 2,000 Kiev 90s were manufactured. Braas (p.22) speaks of a limited production of an unknown number of cameras between 1987 and 1990.


You can see the cover of Princelle's book here.




The Kiev 90
Image kindly supplied by Jean-Loup Princelle
cf Princelle p. 224
[jlp_1.jpg]
These images are from a catalogue produced by Arsenal in 1990. Two different prisms can be seen,
as well as the waist-level finder and the full range of Arsenal medium format lenses apart from the 600mm mirror lens.
One can also see the standard and 35mm panoramic backs, plus a fast-wind grip and various filters and lens shades.
Name: Kiev 645
Dates: factory prototype, 1991
Information on this camera is to be found in the book "Das Kiev Mittelformathandbuch" by Lothar A Braas.
Features


[Kiev645_1s.jpg]

This was apparently a revised version of the Kiev 90 with the following additional/modified features:

a right-hand grip that incorporated a fast wind lever, a flash shoe and a fully integrated shutter release
a newly-calculated f/2.8 75mm standard lens

This was significantly smaller than the 80mm Volna lens that was originally used
a rotating mirror-magnifying head to enable the camera to be used comfortably for vertical shots
a coupling for a motor drive.

Unfortunately, there seem to have been inherent problems in the electronics of the Kiev 90 and the Kiev 645, and in the changed economic circumstances that followed the collapse of the Soviet Union external funding and technical support was sought. This regrettably came to nothing, and so it appears that this version of the camera never entered production.

If they had worked, the Kiev 90 and Kiev 645 could have become the best Pentacon Six mount cameras in the world, and a boon to panoramic photographers with the panoramic back for 35mm film.


[Kiev645_2s.jpg]
Pictures from Braas, p.22
See also pages 26 and 107-129
To go to the Bibliography, click here.
To go on to the next section, click below.
33 The end of production
To go to the beginning of the history section, click here.
To go to introduction to the cameras, click here.
To choose other options, click below.
Home
© TRA First Published: June 2010 Revised: January 2017