Pentacon Six Mount Cameras
by TRA
Flash photography with the Pentacon Six
A flash bracket for the Exakta 66
The flash bracket I found for the Exakta 66 was slightly different. You may recognise from its base plate that it was in fact designed for use with a twin lens reflex of the Rolleiflex type. Unfortunately, the person who disposed of the bracket decided to keep the cable release.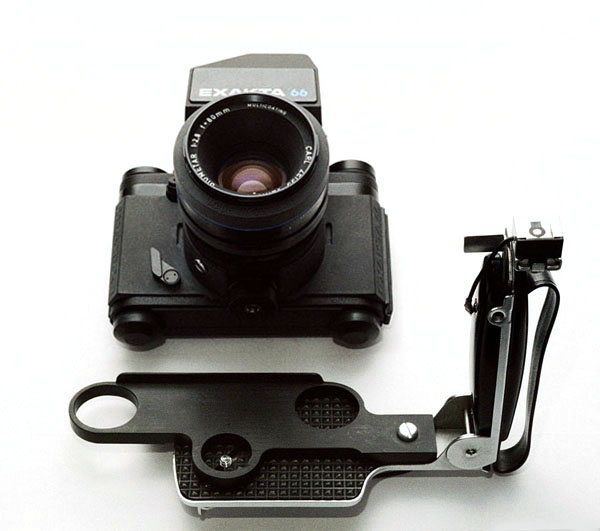 [C309-28/28A]
I got an engineering friend to make a base plate, having shown him the one I used with my Pentacon Six. The design he came up with was slightly different, but works equally well. The central hole accommodates the Exakta 66's third "foot" – the spacer that screws into the camera's tripod socket. The other two holes are rather larger than was necessary to accommodate the Exakta 66 spool knobs.
Here is the Exakta 66 with its flash bracket (and the cable release borrowed from the other bracket):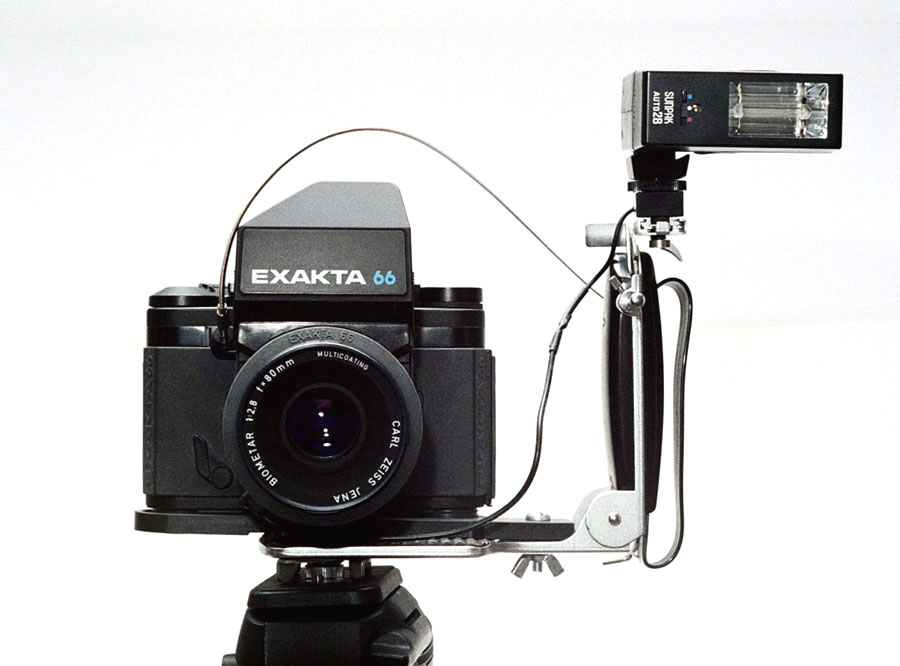 [C309-29/29A]
I find both brackets very comfortable and reliable, and can hold the camera down by my side when walking round a wedding reception, looking for candid shots.
To see a flash bracket used with the Kiev 88-"B.i.G.-six", click here.
For more information on how to make an adapter plate for a flash bracket, click here.
To go on to the next section, click below.
Next section (Using the Delayed Action)
To go back to the beginning of the flash section, click below and then choose the section that you want to read about.
Back to beginning of the flash section.
To choose other options, click below.
Home
© TRA April 2002, November 2005