Pentacon Six TL lenses
Two Flektogon 50mm Wide-Angle lenses for sale
Both lenses now SOLD.
10 Oct 2012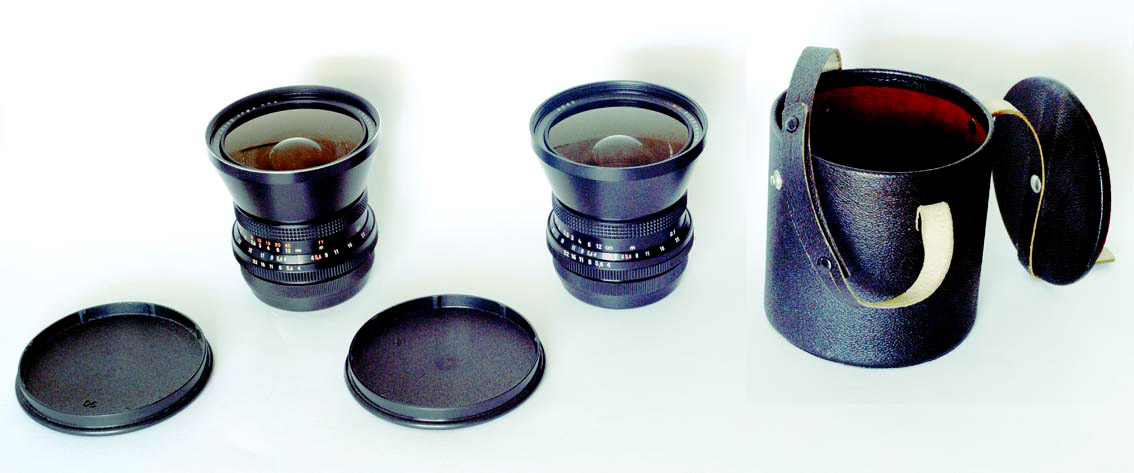 I have two 50mm Flektogon wide-angle lenses for sale.
These are the original Carl Zeiss Jena lenses for the Pentacon Six, and both are in perfect working order.
The 50mm Flektogon is the widest wide-angle lens manufactured by Zeiss for this camera.
The lens on the left in all of these pictures was manufactured in 1978. The one on the right has a newer 4-digit serial number and was manufactured in 1984.
Both lens are supplied the the original front and rear lens caps. The newer lens also comes with the original case.
The 1978 lens has focussing distances marked in feet and meters.
The 1984 lens has meter markings only, as do all the newer Carl Zeiss Jena lenses.
I took these pictures with a digital camera, which has seriously under-exposed the images. It appears to have a faulty sensor!
I have managed to "rescue" the images, but the colour balance and the shadow detail is poor,
so that it is difficult to see the beautiful condition of these two lenses.
It's clearly much better to use a film camera, which gives you a new "sensor" for every image!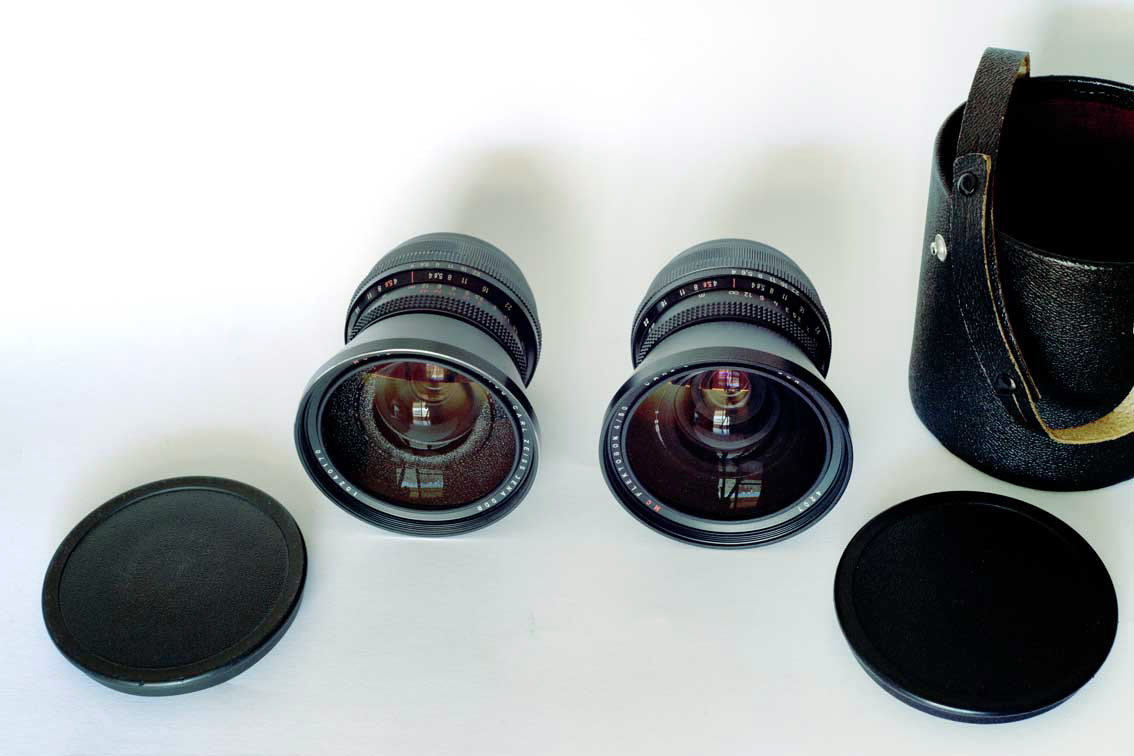 Both lenses are cosmetically in virtually as-new condition.
Mechanically, they are faultless:
aperture and focussing rings operate correctly and smoothly
and the aperture stop-down pin functions correctly.
There is also a depth-of-field preview lever, which functions as it should.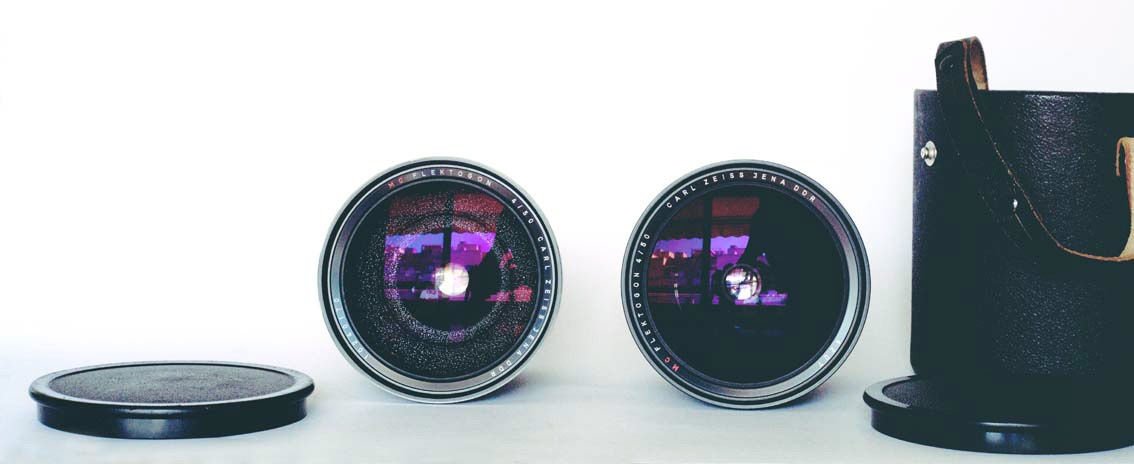 Both lenses are optically faultless, as far as I can see.
The one on the left has been my main wide-angle lens for several years
and was used in the tests on this website.
You can see the test results for the left-hand lens here (at the bottom of the page).
It has been protected by a UV filter (not included in the sale) all the time that I have owned it.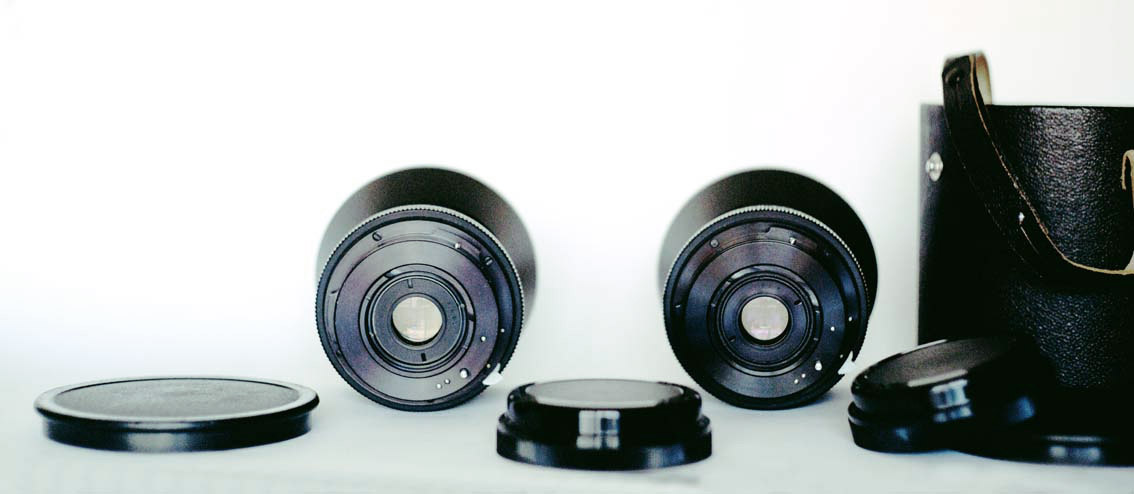 Rear view of the lenses
The sale price for the Flektogon on the left is just GBP (pounds sterling) £99, while the one on the right is £129
+ actual postage costs.
The lenses are located within the European Union.

If you buy one of these lenses (or even both of them!) at the same time as the camera that I am advertising separately, it will be possible to save on postage costs.
You can see details of the camera here.
If you wish to buy one of the lenses, please Contact me via the website mailbox in the usual way
and tell me to which country I should send the lens
and I will then find out the postage costs.
To go back to the rest of the website, click below.
Home
© TRA, October 2012