The M – Componons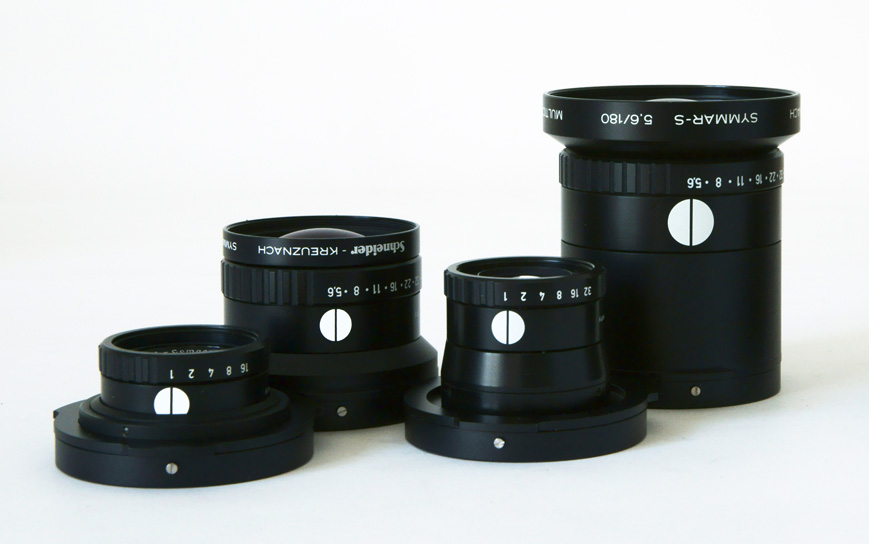 [macro4e66.jpg]
The Componons are much smaller than the Symmars.
From left to right: M – Componon f4/28mm, Symmar – S f5.6/135mm,.M – Componon f4/50mm, Symmar – S f5.6/180mm
Two Schneider M – Componon lenses are available in Exakta 66 bellows mount, the 28mm and the 50mm. They are designed to give the maximum possible magnification of tiny objects, and in consequence it is not intended that either of them should focus to infinity when mounted on the bellows.
The M or Macro Componons are in fact the top-of-the-range Schneider enlarging lenses, mounted in reverse in the mount in order to give the best-possible resolution. M – Componons have been available for many years in mounts for a range of quality cameras and are highly regarded for the results that they can deliver. These two lenses have a rear thread of 29.5mm × 0.5, to which the Exakta 66 mount ring can be simply added.
M – Componon 4/28mm
This is a specialist lens for copying the tiniest objects. On the Exakta 66 bellows at minimum extension, this lens renders on film an image four times life size. With these bellows at maximum extension, it renders on film an image eight times life size. With enlargements even of modest size (for instance, 5" square), the original is massively enlarged.
As will be visible from the table and the accompanying illustrations, the sizes of items that can be photographed are tiny, and distances from the front of the lens to the object being photographed are very small. This can cause problems illuminating the object, and this lens may be best used with transparent objects, such as microscope slides illuminated from behind.
Achieving accurate focus with this lens is difficult for two reasons:
the depth of field is minute – perhaps a couple of millimetres at maximum aperture (varying according to the bellows extension)
viewfinder illumination falls off strongly away from the centre of the image.
To see an assessment of the relative advantages of the Exakta 66 and the Pentacon Six bellows units in macro photography, see here.