The Pentacon Six System
by TRA
Lens Data Summary
Novoflex Lenses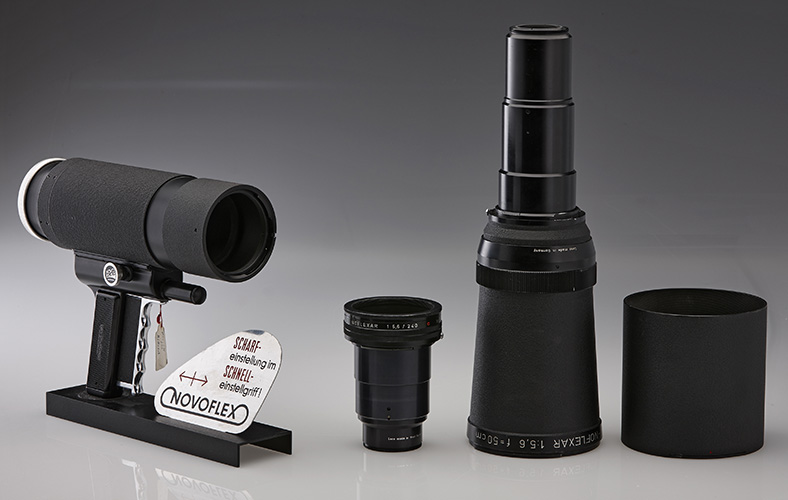 The Novoflex Medium Format fast-focus system
Image courtesy of Novoflex.
The German company Novoflex (at the time a West German company) marketed over many years at least two lenses in the Pentacon Six mount. Both of these lenses incorporated the Novoflex Follow Focus system, a spring-loaded pistol grip that is squeezed to focus. Here are the details (again, from Gillespie):

Lens name
Max aperture
& focal length
mm
Closest
focus
(feet & inches)
Weight
(pounds &
ounces)
Noflexar
f/5.6 / 240
9' 3"
3 lb 6 oz
Tele-Noflexar
f/5.6 / 500
38' 9"
5 lb 8 oz
When I tried out one of these lenses many years ago, I did not find it easy to use, as it is a pre-set lens, so one has to open to maximum aperture for accurate focussing, and then
squeeze the trigger to focus
stop down the lens
fire the shutter.
Doing three things at once with only two hands was anything but easy! It certainly did not speed up operation for me, compared with the standard Carl Zeiss Jena/Pentacon lenses (but I was not able to test it on a tripod, only hand-held, in a camera fair).

However, Novoflex made a point of stating that these lenses were designed to be used at maximum aperture, and in this case operation is indeed fast.
Over many years, sports, wildlife and celebrity photographers demonstrated the effectiveness of this system in obtaining sharp results from great distances.

The two Novoflex medium format lenses in the spring-loaded pistol grip focussing mount, here on a smart Novoflex display stand.

The PIGRIFF focussing unit with the 240mm Noflexar lens head

[nov240disp.jpg]

My thanks to the Novoflex company photographer for taking these superb product shots
and to Martin Grahl, Novoflex Sales Manager, for permission to reproduce them.


The PIGRIFF focussing unit with the 500mm Tele-Noflexar lens head
[nov500disp.jpg]
I believe that Novoflex also sold some of their bellows lenses in the Pentacon Six mount, namely the:
Noflexar f/4 / 200mm
Noflexar f/4.5 / 240 mm
Noflexar f/5.6 / 300mm
All three of these lenses were designed to give both infinity focus and macro focussing.

To go on to the review of the 240mm Noflexar, click below.
240mm Noflexar review

To go on to the review of the 500mm Tele-Noflexar, click below.
500mm Tele-Noflexar review

To go on to the next section, click below.
Next section (240mm Noflexar)

To go back to the beginning of the Lens Data section, click below and then choose the range of lenses that you want to read about.
Back to beginning of the Lens Data section

© TRA May 2002, Latest revision, March 2016