Maximise freedom of choice
Of course, one of the greatest advantages of the 6×6 film format is that it is so much larger than 35mm (not to mention the sensors of digital cameras!!) that you can easily "crop" images to whatever format you want, without compromising on image quality.
Ron Spillman, writing in "Amateur Photographer" about his preference for using a medium format camera without a prism, said, "People who argue about the ideal format miss the whole point of 6×6cm. You can always shoot from chest or waist level in comfort, and afford to lose a strip from one side." (17 May 1986)
I would add, "or a strip from the top and/or bottom, for horizontal images." In fact, one of my favourite formats with my Pentacon Six is the panoramic format used by the Russian Horizon/Horizont cameras and the Japanese Widelux – 24mm high × 56 or 58mm wide – without incurring the distortion problems that arise from using a swing lens camera.
To learn more about taking panoramic photographs with the Pentacon Six, click here.
Horizontal or vertical crop? Whichever you prefer!

Here is an example of square composition at the taking stage. This picture of Canonteign Falls in Devon was taken with a Pentacon Six TL with the standard 80mm Biometar lens focussed at the hyperfocal distance to maximise depth of field and exposed for 8 seconds in order to show the movement of the water.

Exposure on Fuji 100 ISO negative film, lens aperture f/22, camera mounted on a tripod.

The resolution of Pentacon Six images is so phenomenal that it is easy to crop the image, even quite aggressively, and still have a high-resolution result! Scanned at 300 pixels per inch on my Minolta Dimage Scan Multi PRO, the scanned image was approximately 88 cm wide and high and in Photoshop it opened as a file with 305.5 Megapixels! What digital camera can give you that?

(I obviously needed to reduce the resolution substantially for use on this page of this website.)




[c248_7.jpg]
Horizontal crop
A modest horizontal crop resulted in the following image, which was used as wallpaper for a (non-photography) website.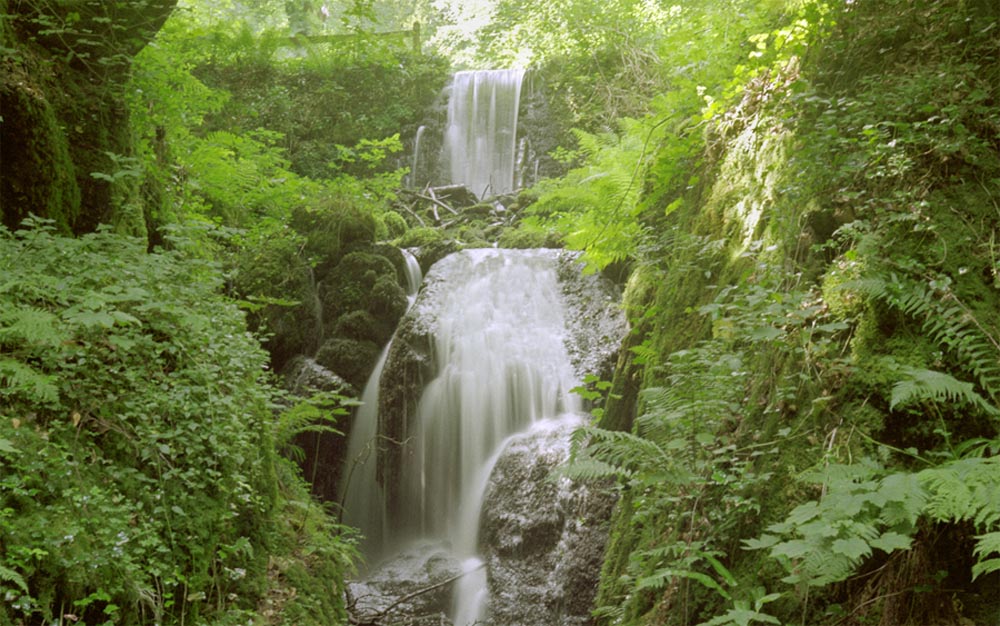 [c248_7h1.jpg]
With so much resolution available, other horizontal crops are possible. Here is another image from the same frame: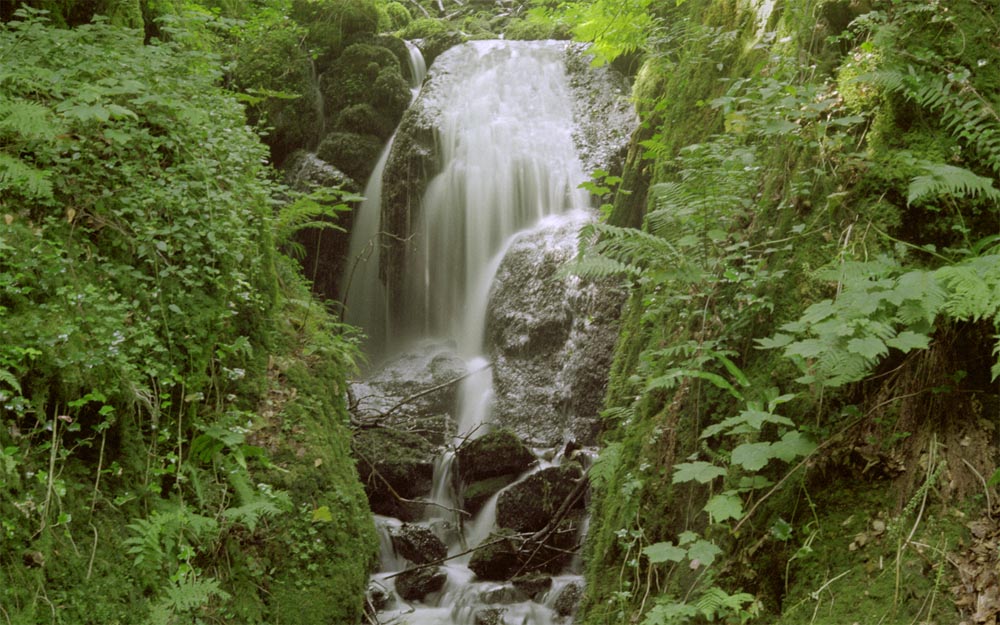 [c248_7h2.jpg]
Vertical crop

And here is a vertical crop from the same frame:

It is often said that horizontal images tend to be tranquil and vertical images tend to be dynamic, but here we have a vertical image that, in my opinion, conveys tranquility.

In fact, we liked it so much that we had a print made and framed, to hang in our home. We chose a slightly wider vertical crop, to produce a 16 × 20" image and had the picture mounted on a medium-brown card that echoes natural wood tones, then framed in a slim brown wooden frame with a gold line that helps the mounted image to stand out from the frame.

We hope that visitors are reminded of the beauty of nature and experience a sense of tranquility as they enter our home. (These are, after all, some of the things that photography can help us to achieve!)





[c248_7v1.jpg]