The Pentacon Six System
by TRA
The History of the Pentacon Six
The Contax S


Contax decided to build the Flektoscope mirror housing into the camera body. This would in fact convert the rangefinder Contax into a 35mm Single Lens Reflex Contax – a "Spiegel-Contax" ("Mirror Contax") or "Contax S". A 35mm SLR had of course been produced by Exakta & the oddly-shaped Russian Sport in 1936, but the new Contax was to add to the body a fixed pentaprism, giving eye-level viewing with an image that was the right way-up and the right way round. During the war, the company was unable to produce the camera, but in 1948 the Contax S was finally produced by the original Contax factory in Dresden. The camera itself bore the Zeiss Ikon logo but only the name "Contax", with the "S" being added only in printed literature. (Hummel p.207) It abandoned the bayonet lens mounts of the pre-war Contax (there were two of them on each camera!), and adopted the M 42×1 screw thread that had been developed by another firm, Kamera-Werkstätten, Niedersedlitz, Dresden, for their Praktica cameras.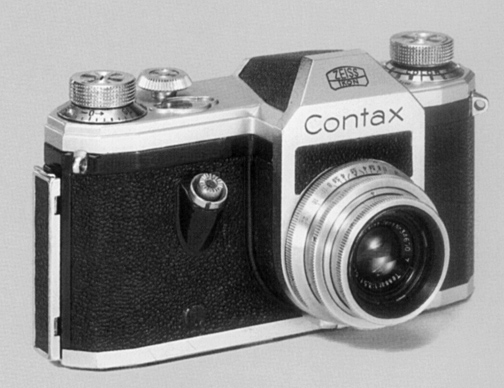 The first Contax S of 1948 or 1949
Notice the black stud convering the hole where there was meant to be a delayed-action lever:
severe post-war shortages meant that the lever and its mechanism
were not available when the camera was first released!
Illustration from Mesow, Wolfgang & Kuhn, Heinz, "Photography: 150 Years Cameras from Dresden", VEB Pentacon Dresden, 1989
The camera was a world-wide success, but the new Contax company in Stuttgart, West Germany was getting ready to re-start production of Contax rangefinder cameras which were only slightly modified from the pre-war versions.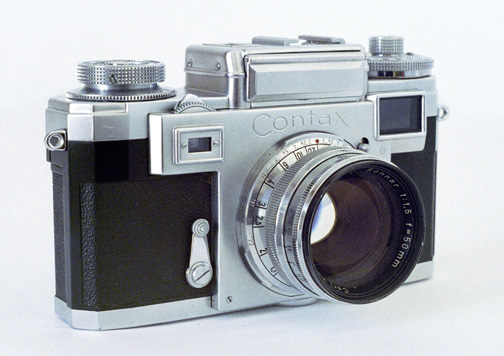 [C371_16A.jpg]
A post-war Contax III (known as the "IIIa")
from the Zeiss Ikon factory in Stuttgart, West Germany
Zeiss Ikon West Germany initiated legal action to prevent the Dresden factory using the Zeiss Ikon and Contax names on their new camera.
For information on a special, probably unique, Contax S, see here.

To go to the Bibliography, click here.
To go on to the next section, click below.
04 The Contax D and E
To go to the beginning of the history section, click here.
To go to introduction to the cameras, click here.
To choose other options, click below.
Home
© TRA August 2010 Latest revision: May 2017