Medium Format Lenses with the Pentacon Six Mount
A comparative test
by TRA
Introduction
This test compares a wide selection of lenses in the Pentacon Six mount from:
Carl Zeiss Jena
Pentacon (Dresden) (both former East Germany)
Arsenal (Kiev, Ukraine)
and Joseph Schneider (Bad Kreuznach, former West Germany).
For comparison purposes, three Carl Zeiss Oberkochen (former West Germany) lenses were included in the test. These were mounted on a Hasselblad 500C manufactured in 1967. It appears probable that the lenses were manufactured in the same year as the camera.

Also included in the test are four 2× converters: Panagor, Arsenal and Joseph Schneider (on the Pentacon Six / Exakta 66 / Kiev 60) and Vivitar on the Hasselblad.

This image shows examples of most of the East German Carl Zeiss and Pentacon lenses designed for the Pentacon Six.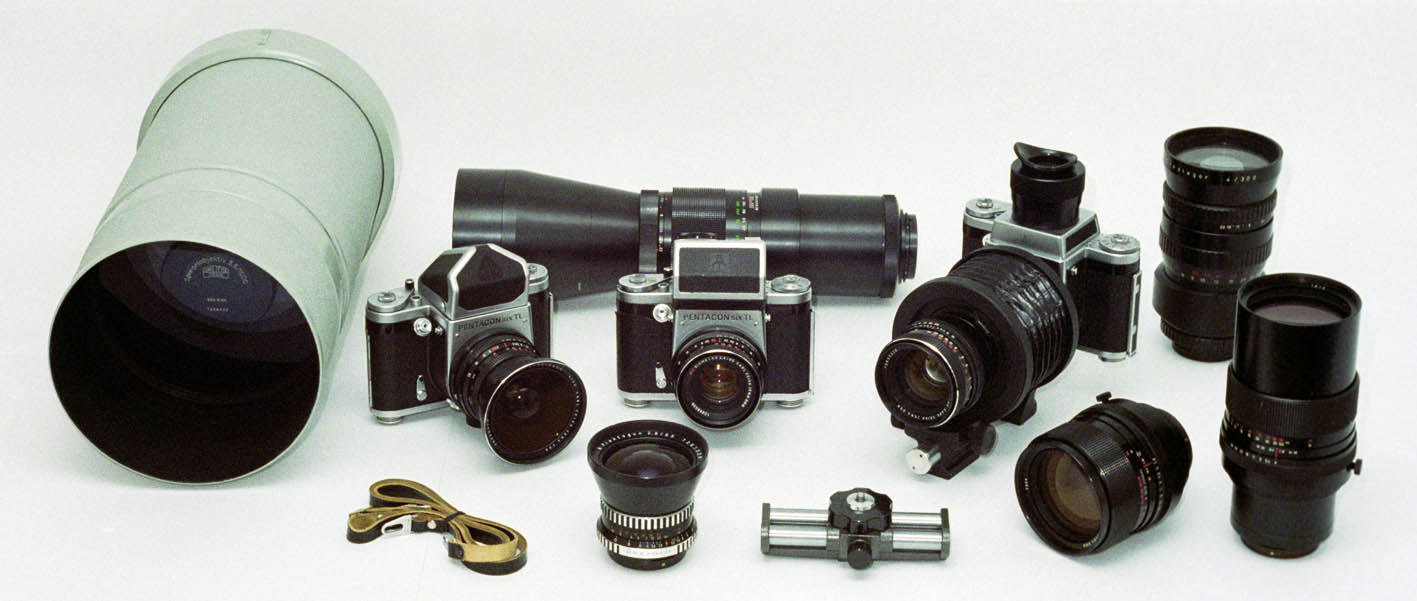 [C309-37: A comprehensive Pentacon Six outfit:
On the left: the 1000mm mirror lens. At the back: the 500mm Pentacon lens
On the first camera on the left: the 50mm Flektogon. On the middle camera: the 80mm Biometar.
On the right-hand camera: the 120mm Biometar.
To the right: the 300mm Pentacon lens (at the back) and the 300mm Sonnar lens in front of it.
In the front: a camera strap, the 65mm Flektogon, the focus slide for the bellows, then the 180mm Sonnar.]
As I only tested the lenses to which I had access at the time(!), some lenses were not included in the original test: the 40mm Joseph Schneider Curtagon (if it exists!), various shift and shift/tilt lenses with focal lengths 45mm/55mm/65mm from Joseph Schneider, Arsenal, Hartblei and other sources, the 65mm f/2.8 Carl Zeiss Jena Flektogon, the 80mm f/2.8 Joseph Schneider Xenotar, the 120mm f/2.8 Arsenal Vega and the 250mm f/5.6 Arsenal Telear.
September 2005: The results of tests of some of these lenses are now included, including the 40mm Schneider Curtagon. I plan to add the results of tests of further lenses early in 2006, D.V.
At the time of the original tests in 2002 I had no access to lenses with the Pentacon Six mount from Kilfitt or other manufacturers. However, this situation has changed over time. To see information on lenses with the Pentacon Six mount from other manufacturers, go to the Lens Data section, where there is detailed information, many lenses are illustrated and there are links to the results of tests of some of them.

To go on to the next section, click below.
Next section (Compatibility issues)
To go back to the beginning of the lens tests, click below and then choose the focal length that you want to read about.
Back to beginning of lens tests
© TRA January 2002. Latest revision: July 2018