Pentacon Six Mount Cameras
by TRA
Flash photography with the Pentacon Six
Using a flash bracket with the Pentacon Six
Much better than using an accessory shoe on the prism is to mount the flashgun higher and further to one side. If you have a separate flash sensor, by all means mount it in the shoe above the prism.
The base of the Pentacon Six and the Exakta 66 (unlike the Kiev 60) is not flat, as the two film spool knobs project below the base. So mounting a flash bracket is not straightforward. You can connect one to the tripod socket just under the lens mount, but it is then likely to swing to and fro, regardless how much you tighten the fixing screw on the bracket.
I decided to have a custom adaptor plate made to interface between a standard heavy-duty folding bracket and the camera base. Here are the components, prior to assembly:



[C309-27/27A: This plate has a large knurled wheel that screws into the camera's tripod socket.
Just behind this wheel is a ¼" threaded socket into which the flash bracket screws.
The projection to the right of the adaptor plate in this picture engages with the upright on the flash bracket,
preventing it from swivelling back and forth.]


Changing from a Pentacon Six probably manufactured about 1967 to a Pentacon Six TL probably manufactured about 1982 revealed that the projecting knobs on the newer camera's base have a slightly smaller diameter than the older model – a point to be borne in mind if making an adaptor plate for more than one Pentacon Six.
Here is the Pentacon Six with the flash bracket and a small flashgun in place: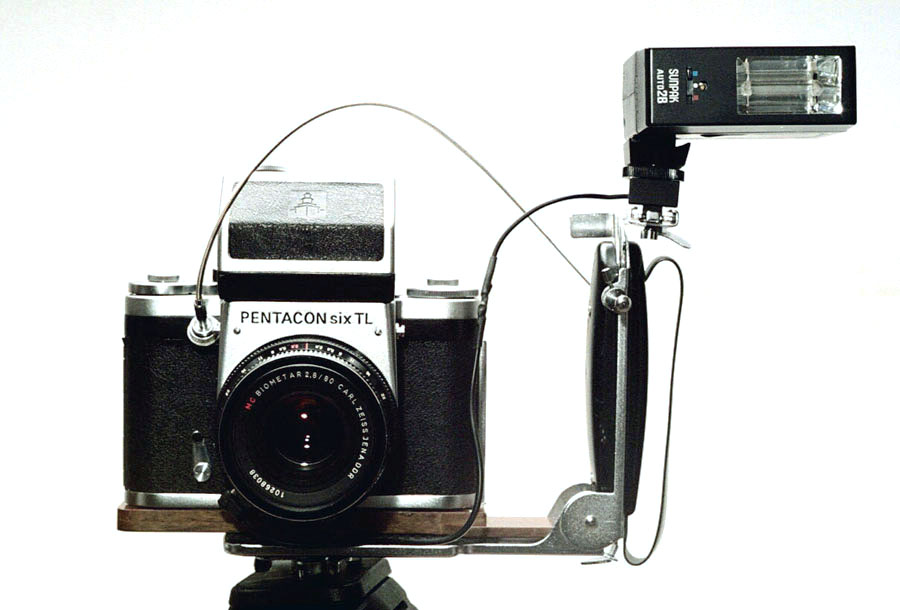 [C309-30/30A: The flash bracket cable release is an optional extra that works well. It is threaded to screw into the bracket and has a locking screw for longer [non flash!] exposures.]
The flashgun that I now use as standard – a Metz – only has a hot shoe, and no sync cable, so I have installed a hot shoe to cable adaptor in the socket of the bracket, extending the adaptor's cable to reach the camera's flash socket. This is visible in the above shot.
To see a flash bracket used with the Kiev 88-"B.i.G.-six", click here.
For more information on how to make an adapter plate for a flash bracket, click here.

A small hand grip for the camera can be seen here. However, the grip fits close to the camera, making the addition of a flash shoe impossible.

To go on to the next section, click below.
Next section (An alternative flash bracket design for the Pentacon Six)
To go back to the beginning of the flash section, click below and then choose the section that you want to read about.
Back to beginning of the flash section.

To choose other options, click below.
Home
© TRA April 2002. Revised January 2021