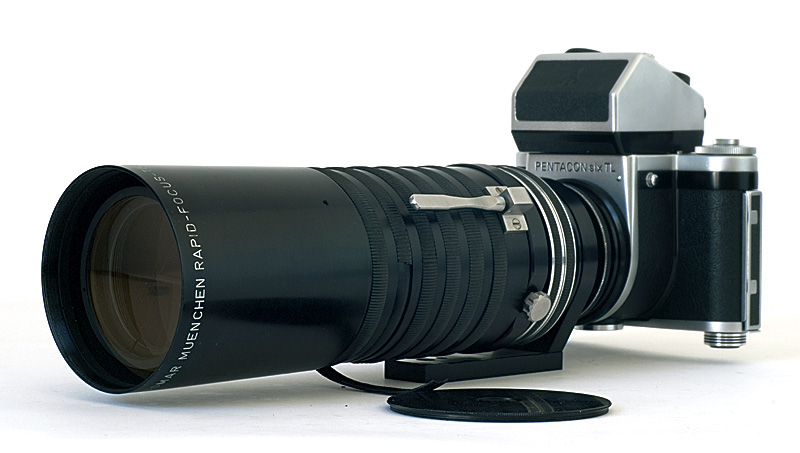 [zmr_03.jpg]

The Kilfitt factory seems to have used exactly the same type of rubber rings as Novoflex for all the major control rings – aperture, zoom and focus. About 50 years after original manufacture, the rubber is beginning to perish, again exactly as on some of the Novoflex lenses. Note the band that has broken and is falling off in this picture (and perhaps you will see a few black spots of rubber on the white paper). It would appear that on both Kilfitt (Zoomar) and Novoflex lenses, these rubber bands now need replacing. Fortunately, suitable (but different) rubber is available – generally with the pyramid-shaped studded pattern. However, the mechanical design of this lens is superb, and everything still moves as smoothly as if it were brand new.

| | | |
| --- | --- | --- |
| The Zoomar is a coated lens, as can be appreciated from this view. | | [zmr_14.jpg] |
How does this lens compare with other zoom lenses in the Pentacon Six mount?
There are a total of four zoom lenses for this camera, two from Kilfitt and the other two from Joseph Schneider of Bad Kreuznach. For a Medium Format system, this is exceptionally good.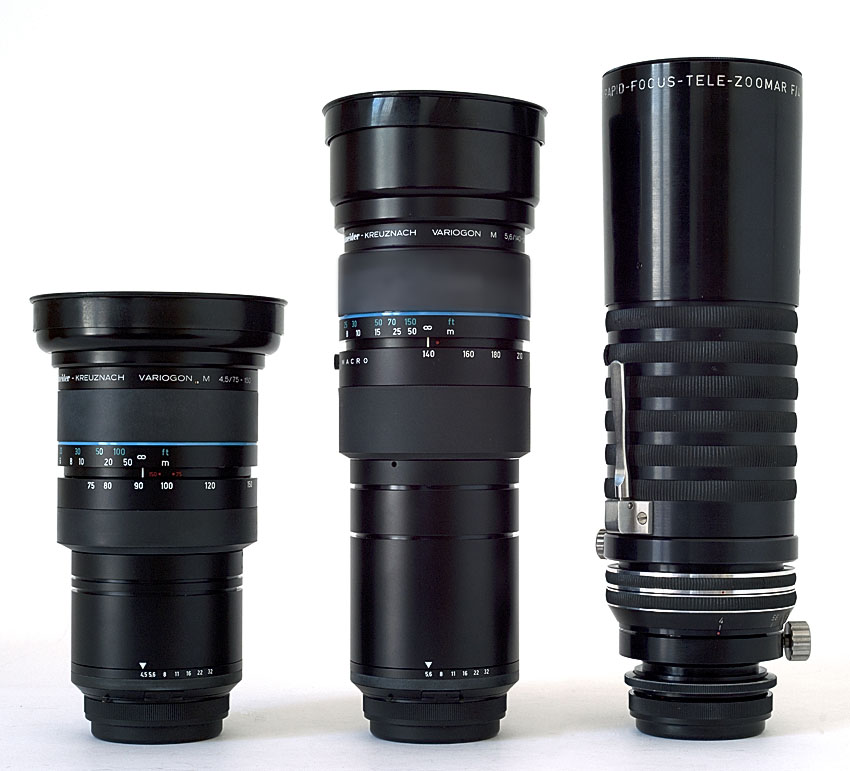 From left to right: Schneider 75-150mm Variogon, Schneider 140-280mm Variogon
and Zoomar (Kilfitt) 170-320mm
[3zms.jpg]
Here are some of the key details for comparison purposes:

| | | | |
| --- | --- | --- | --- |
| Lens & focal length range | Schneider 75-150mm Variogon | Schneider 140-280mm Variogon | Zoomar (Kilfitt) 170-320mm |
| Maximum aperture | f/4.5 | f/5.6 | f/4 |
| Minimum aperture | f/32 | f/32 | f/22 |
| Filter size | M 86 × 1 | M 95 × 1 | 90mm 1 |
| Weight with front cap 2 | 1778g 3 | 2028g | 3080g |
| Zoom range | 2× | 2× | 1.88× |
| Auto-aperture operation | Yes | Yes | No |
| Rotatable tripod plate collar | No | No | Yes |
| Macro setting | Yes | Yes | No |
| Tripod socket size | 3/8" | 3/8" | ¼" and 3/8" |
Notes
1 According to reports. I have not been able to check this with a suitable filter.
2 Both Variogons have a lens shade, which is included in the weights. The rear caps, which can be seen in the above photograph, were removed when the lenses were weighed, as they are not used when the lens is on the camera.
3 Weighed on the same scales as the Zoomar. These numbers deviate slightly from the weights published by Schneider – but some slight changes of finish are documented at least with the 140-280mm Variogon in Exakta 66 mount, and these may account for the slightly larger weight difference with that lens, in comparison with the published weight.
The larger maximum aperture of the Zoomar lens and its greater focal length even compared with the longer of the two Variogons results in a lens that is significantly heavier than the two Schneider lenses
The Zoomar has a slightly shorter focal-length ratio than the two Schneider lenses, but it has greater reach than either of them. Both Variogons were made for a range of Medium Format cameras, including some Rollei SLRs. The 140-280mm Variogon was available for many years for Hasselblad cameras, both with a built-in shutter (for the 500C, 500C/M and other Hasselblads that required lenses to have a built-in shutter) and without it for the 2000F, which had a focal plane shutter. For decades, it was the only zoom lens available for Hasselblad cameras, apart from the Zoomar reviewed here, which could be used with a suitable mount on Hasselblad cameras with a focal plane shutter (the 1600F, the 1000F and the 2000FC).
The Schneider Variogons were made in the Exakta 66 (1984-2000) mount, which is compatible with the Pentacon Six mount, in the latter part of the 1980s and could therefore be 20 years newer than the Zoomar reviewed here.
In due course I hope to be able to add a review of the quality of the images produced with this lens.
Conclusion
This lens was a first for medium format cameras. It is also extremely rare. It is a worthy addition to the range of lenses available for the Pentacon Six.
To go on to the next section, click below.
Next section (Kilfitt Pan-Tele Kilar)
To go to the lens test section, click here.
To go to introduction to the introduction to Kilfitt data, click here.
To go back to the beginning of the Lens Data section, click below and then choose the range of lenses that you want to read about.
Back to beginning of the Lens Data section
To choose other options, click below.
Home
© TRA First published: April 2012 Latest revision: July 2015